Next Directory is the driving force behind future growth and recently announced special dividends propel this share into high-yield territory.
NEXT Directory is the future
Three months ago I spent some time analysing NEXT from the private investor perspective. From this I concluded that NEXT is a superbly run company producing great results and would be a fantastic buy - in 2008. Back then the shares were, demonstrably, a steal at less than £10; in the 5 years since earnings per share have more than doubled and the share price has multiplied seven-fold!
However besides NEXT shares being expensive, by most metrics, the graph that really gave me pause for thought last year was one of debtor day history. Typically a rising trend-line suggests that a company is relaxing payment terms for its customers and/or having difficulty collecting the money that it's owed. With NEXT Directory becoming ever more important I wondered if this was a harbinger of upset ahead: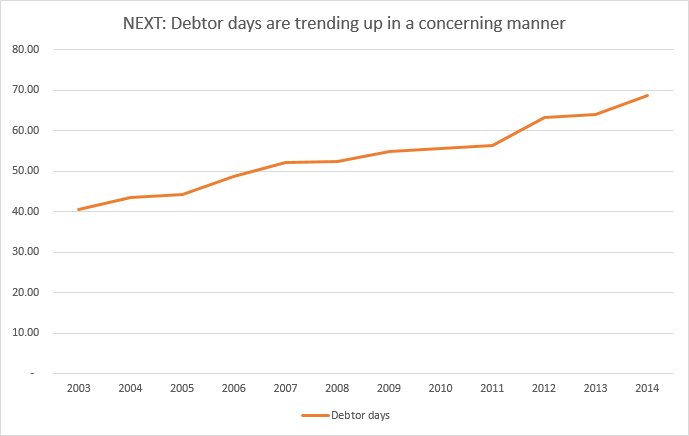 Recently though I've come back to NEXT following their Christmas trading statement. In this management set out how sales growth, of 2.9%, came in at the upper end of previous guidance and that full-year profits will hit a tight range of around £775M. So the picture looks pretty rosy although with a decent slug of realism concerning economic prospects for 2015 and tough comparables from last year.
While considering this statement I realised that previously I erred and should have thought to examine the turnover and receivables of Retail and Directory separately. In the former there are almost no receivables as customers willingly hand over their cash before the company even pays its own suppliers! With Directory sales there is, by design, a long credit period for customers and thus a tail of outstanding debtors. It turns out that despite Directory turnover almost tripling in the last decade this tail remains well managed: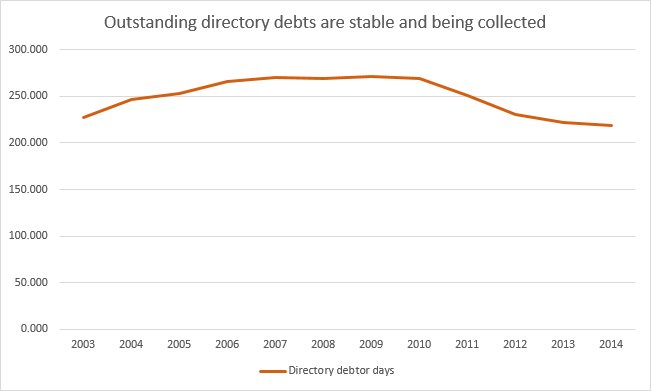 With this Retail/Directory split in mind I've also plugged into my spreadsheet the operating profit figures, for each side of the firm, to check how the margins stack up. Previously I looked at the blended margin, which is both stable and high at around 16%, but teasing apart the percentages is nothing short of a revelation: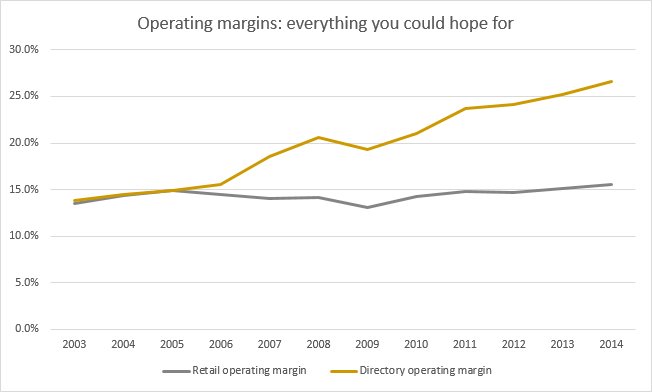 Quite simply NEXT Directory benefits from excellent, at above 20%, and sharply increasing margins on the whole of its business. Given the present level of investment in this area, and focus on online expansion, I can easily see how management are planning to maintain growth, cash-flow and a ROCE in excess of 50%.
High yield and high quality
Along with the concerns noted above I was also, previously, left with something of a dilemma regarding NEXT as an income stock. In years gone by management have invested large chunks of free cash-flow into share buy-backs and left shareholders with a reasonable but low yield of around 3% (on average). There's no doubt that this has proven an effective strategy, which makes a nice change, but nothing feels quite so much like a decent return as cash in your pocket!
However the Christmas trading statement provides a bit of a fillip in this direction with the announcement that buybacks are currently postponed, due to the buoyant share price, and that there would be another special dividend of 50p. A welcome surprise. In addition the proclamation intimates that buybacks might not be possible for quite some time; given the prevailing share price and profit forecasts for 2016.
Suddenly then the prospect of receiving 150p in ordinary dividends, and the same again in special dividends, becomes a whole lot more real. Even now, with the share price at 7165p, this equates to a yield of almost 4.2%; a lot more than the median forecast yield of 2.98%, for all dividend paying stocks in the market, and enough of a signal for me to press the big red buy button!
Of course life is full of surprises and sometimes they're good ones! Just three days ago NEXT revealed a further special dividend, this time hoisted to 60p a share, with the coda that we might well receive one of these a quarter. Altogether then this could lead to a whopping payout of 390p over the coming year and that translates into a yield of near 5.5%. Given how my high-yield screen only returns 25 shares, that I might be inclined to invest in, with a yield above this level then NEXT is a pretty good bet if you're an income investor.
Disclosure: the author holds shares in this company