Introduction
Why do stock markets exist? It's pretty simple: companies need funding in order to grow and underwrite whatever ideas they think are commercial. The market is a place where cash-poor companies get in touch with cash-rich investors and swap equity for financing.
What has this fine idea got to do with Mello 2014? Well if you're an institutional investor, with several billion pounds in your back pocket, companies (and plenty of them) come to you with a begging bowl. In stark contrast the opposite is often true for private investors and quite a few companies view us as a suckers waiting to be parted from our money. So there's a real need for a forum where we can find and learn about sensible firms to invest in.
Up till now this gap in the market has been met, primarily, by investor conferences such as The London Investor Show and Master Investor (to take two random examples from Google). Unfortunately these shows tend to attract a plethora of tin-pot mining operations, wildly speculative blue-sky stocks and other firms desperate to cover next month's payroll. Hence the quality is patchy and this is something that has long concerned David Stredder; the hard-working creator of Mello 2014.
Out of a successful thirty-year background in private investing David first began to right this imbalance by starting a monthly investor meeting, Mello Monday, over nine years ago. At these dinners the management of a few invited companies present to the assembled investors; invariably this stimulates vigorous discussion and occasionally some awkward questions for the managers on hand. It's a great format that benefits both individuals and the companies who share their story.
However David is an ambitious and tireless individual who dreams of a world where private shareholders feel (and are) enfranchised while companies get to know who their owners are and engage with them directly. To further this vision he came up with the idea of turning Mello Monday into a three-day, full-on conference and in less than six months this idea became reality (with the help of some very capable and determined associates). The result is Mello 2014 and I, for one, feel very grateful that such an event exists and that my wife was generous enough to let me spend three days enjoying everything on offer in the town of Derby.

Key note speakers
The heart of any great conference is a strong line-up of key note speakers with sufficient experience and presence to appeal across the board. As such I hoped to receive some genuine pearls of investing wisdom in Derby and on paper this looked to be a racing certainty given the astonishing line-up that David conjured up.
In one corner stood some very successful private investors, either already in the public eye like Philip Hayton or known to David personally such as Leon Boros; in the other corner he enticed fund managers like Andy Brough, from Schroders, to stand alongside institutional trust managers such as Peter Pereira Gray from the Wellcome Trust. A heck of an offering I'm sure you'll agree and nobody cut and ran with their check either; in fact many speakers lingered to enjoy other presentations and play a key part in panel discussions.
To give you a flavour of the entertaining advice on offer I managed to catch both of Lord John Lee's presentations; one on Investing in Small Cap Stocks and the other on How to Make a Million - Slowly. Here he spoke of loving regional or family businesses with a significant board shareholding, cash on the balance sheet and a desire to maintain dividends for the wider dynasty. Surprisingly however he also advocated a 20% trailing stop-loss since protecting the downside is critically important and it's always possible to misread the tea leaves!
Reassuringly professional money managers Gervais Williams, from Miton Group, and Katie Potts, of Herald Investment Trust, dispensed similar common-sense advice. They suggest that small-cap companies are where future growth lies and that we should direct our funds to this sector; just so long as we remember to demand strong balance sheets and margins along with a management focused on growth. We need these small companies as much they need us and in an ex-growth world the future is bright for such nimble corporations.

Company presentations
Across the three days I counted more than 40 separate company presentations and if that doesn't make your mouth water then I don't know what will! These weren't your typical cap-in-hand firms either; David is personally invested in perhaps half of the companies who made an appearance and in a sense this is a natural extension of his practice to continually engage with management. For those of us yet to attend an AGM it's something of a unique experience to hear from companies that we might like to invest in.
So when I wasn't soaking up the key-note speakers I spent much of my time listening to companies such as Accesso, Acal and Bioventix. None of these enterprises are above £150mn in size (yet!) but all are profitable, growing in well-defined market niches and solidly funded. As you might expect the executives with the slides are pretty polished at selling their companies but no one that I saw seemed to be hawking snake-oil. Considering the reputation, or lack of, that some listed businesses have this no-BS approach was a blessed relief.
Panel discussions
As if the speeches and presentations weren't enough to keep us occupied David also found space for a number of panel sessions. Often these are a little cliquey, with the panellists having a good old natter amongst themselves, but here we got plenty of audience interaction and a chance to discuss topics of significance.
I particularly enjoyed the Sharesoc Investor Masterclass in which the jury considered whether meeting management is a risk or an opportunity before moving onto the thorny question of whether we are investors or speculators. With an excellent networker such as Paul Scott on one side and a "strictly by the numbers" investor like Alun Morris on the other this evolved into a healthy discussion with a great dynamic.
Elsewhere panels considered how best to minimise portfolio risk and remain alert to red flags, the dangers of sexy story stocks who promise more than they deliver and also how to know when it's time to sell and say goodbye. All of these are areas which reward softer skills than the cross-examination of a balance sheet and I, for one, found the debates enormously beneficial.
Face to face
With all of the above taking place in just three short but intense days you might wonder how anything else could be squeezed in but fear not - the Derby Conference Centre featured a sunken lounge perfectly suited to company stands and in-depth questioning. In the precious moments between lectures I rather enjoyed strolling around this area, in the heart of the action, and serendipitously falling into conversation.
As a result I learnt all about Amati Global Investors and their focus on small-cap companies. Refreshingly I felt no sense of being sold to; we were simply two investors discussing the market and firms such as Sprue Aegis. Curiously enough I stumbled into conversation with John Gahan, the Finance Director of this company, just a day later and he proved very happy to spend the best part of an hour discussing smoke detectors, company finances and the European market.
To top even this David also arranged for some slightly more physical demonstrations from a couple of companies: portable hotel pioneers Snoozebox managed to slide one of their plush units into the car park while ambitious butchers Crawshaws supplied bulging pork sausages for the lunchtime menu. If only all companies made such an effort!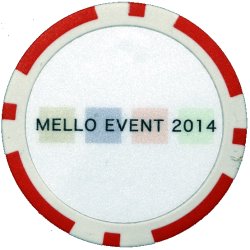 Entertainment
Finally Mello 2014 didn't close its doors at 6pm either; this was as much a social and networking event as a conference. So on Thursday attendees enjoyed a unique spin on the Dragon's Den theme with £250,000 available for business ideas which made the grade. On a similar line, although with lower stakes, Friday evening saw in the Mello poker tournament and a tightly fought competition across the green baize. Even on Saturday, with the event over, a decent group of us stayed to gossip in the bar, continue chatting over dinner and then to return to the bar for more conversation and, eventually, poker. Sadly I had to return to London and eventually made it back in the early hours of Sunday morning; I really didn't want to leave!
Overall impression
I hope it sounds as though Mello 2014 was a smashing success and hugely enjoyable because it most certainly was. Beyond the amazing range of presentations and talks I simply enjoyed the opportunity to spend quality time with like-minded investors from all walks of life; a fantastic networking opportunity but also a chance to make new friends. Truly this conference covered all of the bases.
In the interest of balance I've tried hard to think of areas of improvement for next time and I'm pleased to say that I've come up with a few. Now Derby is a fine town, and the conference centre hosted us all very happily, but it's clear that the majority of attendees hiked up from the South East. So we all could have saved on petrol and parking problems had the venue been somewhat closer. On a similar note the food on offer (apart from the sausages!) was pretty average; okay Mello 2014 isn't a food show but alternative options were decidedly limited. However the crowning irritation was that I didn't think to bring a cushion to ease my posterior; my suggestion to David is that sponsored pillows are the way forward...
That said if David chooses to piece together a Mello 2015 event, with or without pillows, then I'll be first in line for a ticket. It's clear that David is (justifiably) very pleased with the event's success and that's from the horse's mouth (if you listen to this debrief with Paul Scott). Now considering the wide array of practical investments put on display at the show I'm afraid that I have to go away now and focus on all of the many investment ideas buzzing around my skull. I could be some time.